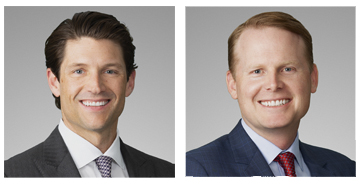 (Dallas) – Akin Gump today announced the expansion of its corporate team in Dallas with the addition of partners Ryan Cox and Eric Williams. Both Mr. Cox and Mr. Williams join Akin Gump from Haynes and Boone, where Mr. Cox previously served as co-head of the firm's capital markets and securities practice, and Mr. Williams was head of its M&A practice.
–
Mr. Cox focuses on representing issuers and investors in public and private securities offerings, M&A transactions, recapitalizations and restructurings, in addition to providing advice on general corporate, governance and compliance matters. Mr. Williams counsels corporate and private equity buyers in a variety of M&A transactions, including distressed deals in the bankruptcy context.
–
"Building on the strengths of our corporate group in Dallas has been a strategic priority for us," stated Akin Gump chairperson Kim Koopersmith. "Ryan and Eric's experience and focus perfectly complement our team and align very well with the needs of our clients in Dallas and the broader national market. I'm thrilled to welcome them to Akin Gump."
–
Added Jeffrey Kochian, co-chair of Akin Gump's firmwide corporate practice, "Eric and Ryan bring tremendous track records advising public companies and private equity funds in all manner of transactions. This includes deep experience in areas that are key to us and our clients, including LBOs, distressed investments and acquisitions, and secondary fund transactions. They are phenomenal lawyers and will make great additions to our team."
–
Mr. Williams has developed significant experience in advising on M&A transactions for clients in the health care, infrastructure, manufacturing, retail and TMT spaces, among others. Mr. Cox has advised on transactions for a broad spectrum of clients, including those in the TMT, energy and investment management arenas.
–
"Akin Gump offers both deep roots in the Dallas and Texas markets as well as an exceptional national platform from which I can continue to grow my practice," stated Mr. Cox. "Having had the opportunity to handle deals across the table from Akin Gump lawyers in the past, I know firsthand what an outstanding team they are, and I am excited for the opportunity to work alongside my new colleagues."
–
Mr. Williams added, "My practice is an ideal fit within Akin Gump's platform. The ability to join the firm and contribute to the strategic growth of the corporate team and the Dallas office is a wonderful opportunity, and I am thrilled to be here."
–
The arrival of Mr. Williams and Mr. Cox follows the promotion to partner in January of two Akin Gump Dallas lawyers: Nicholas Jay Houpt in the corporate practice and Adam Hilkemann in the investment management practice. In 2019, the office also relocated to state-of-the-art space in the Uptown neighborhood of Dallas.
–
Scott Barnard, partner in charge of the Dallas office, commented, "This is a dynamic time for our Dallas office. Ryan and Eric represent the latest infusion of talent here, and I am very excited about what is to come."